Anti-Aging Beauty Supplement
100% vegan.
Helps to prevent premature skin aging.
Powerful anti-inflammatory and antioxidative properties.
Contributes to the proper function of the immune system.
Helps to maintain a healthy body and healthy skin.
Supports the production of new skin cells.
Helps to protect the skin cells against oxidative stress.
Composition per daily dose of 2 capsules:
Baobab Powder (Adansonia Digitata) 200mg
Bamboo arundinacea 133.34mg
Curcumine extract 50mg
Green tea extract 50mg
Vitamin C 80mg 100%*
Vitamin D3 25mcg 500%*
Vitamin E 24mg 200%*
Calcium 17mg 2.2%*
Manganese 2mg 100%*
Copper 1mg 100%*
Q10 ubiquinone 10mg
Trans-Resveratrol (polygonum cuspidatum) 10mg
Hyaluronic Acid 10mg
*Reference intake
The recommended daily use is 2 capsules per day, preferably with meals. A container of the Bao-Med Anti-Aging beauty supplement contains 60 capsules. A varied, balanced diet and a healthy lifestyle are important. Dietary supplements are not a substitute for a varied diet. Consult with your physician before taking a supplement if you use medications or have health concerns.
The powerful Bao-Med Anti-Aging beauty supplement is developed with high quality ingredients. Each capsule contains nutritious baobab fruit powder from the African baobab tree with high levels of Vitamin C, Calcium, Magnesium, Potassium, anti-oxidants and dietary fibres. Baobab fruit powder helps to promote healthy gut flora. This enhances the body's capabilities to absorb vitamins and minerals from the beauty supplement to help combat premature aging.
The supplement contains 13 key ingredients to help counter oxidative aging and support the immune function.
Baobab Fruit Powder
Baobab fruit powder is considered the king of superfoods due to its high concentration of nutrients.
Baobab fruit powder is highly nutritious and provides your body with significant amounts of Vitamin C, Potassium, Magnesium, Zinc, Calcium, Vitamin B, and Antioxidants in relation to any other food.
Baobab fruit powder contains high amounts of fiber, acting as a prebiotic to promote your gut flora and gut health. This helps your body to improve the absorption of key vitamins and minerals in the Anti-Aging supplement.
Boosts collagen with high levels of natural Vitamin C.
Strengthens the immune system with a high dosage of prebiotics and vitamin C.
Combats bloating and help digestion with prebiotic fiber and enzymes.
Energising iron with vitamin C for super absorption.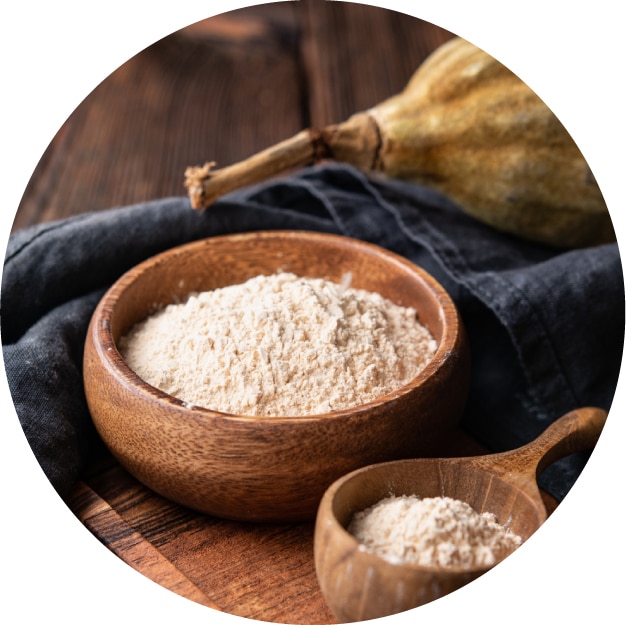 Bamboo arundinacea
Supports the healing of skin antibacterial properties to cleanse, purify and detoxify.
Has strong antibacterial properties to help cleanse, purify and detoxify.
Bamboo is also rich in natural silica which helps to give your skin a radiant glow.
The mineral content in the extract helps to activate the natural collagen production in the body.

Curcumin Extract
Curcumin is a potent antioxidant which not only neutralises free radicals but also boosts the activity of your body's own antioxidant enzymes.
Curcumin brightens the skin with its natural glow and may help to prevent and reduce dark spots.
Curcumin helps to control inflammatory responses within the body.
Contributes to the maintenance of flexible joints.
Green Tea Extract
Strong Antioxidant that helps protect healthy cells and tissues.
Helps protect the skin from UV-induced oxidative damage.
Contributes to healthy ageing by maintaining intact cell DNA.
Green tea, to maintain strong bones and protect against skin aging.
Green tea helps with good intestinal function and supports healthy digestion.
Vitamin C
Vitamin C contributes to the formation of collagen, This is important for the following reasons;

Supports the connective tissue of the skin.
Maintains the condition of blood vessels.
Maintains the condition of the skin.
Supports the production and maintenance of cartilage.

Vitamin C acts as an antioxidant in our bodies that helps to protect the skin against free radicals.
Vitamin C supports the skin's healing capabilities.
Vitamin D3
Vitamin D3 plays an integral role in skin protection and rejuvenation.
It enhances the skin's immune system and helps to destroy free radicals that can cause premature aging.
Vitamin D3 contributes to the normal function of the immune system.
Vitamin D3 helps the body to better absorb calcium from food.
It plays a role in the production of cells and tissues and is good for the muscles.
Vitamin E
Vitamin E contributes to the protection of cells against oxidative stress.
Vitamin E speeds up wound healing on the skin and reduces the appearance of scars.
Vitamin E is essential for healthy skin, this includes your scalp. Poor scalp health is linked to lackluster hair quality.
Vitamin E supports the scalp and gives your hair a strong base to grow from by reducing oxidative stress and preserving the protective lipid layer.
Calcium
Calcium promotes natural sebum production. The lack of Calcium could cause dry skin due to the lack of natural sebum.
Calcium contributes to the production of cells and tissues.
Skin that doesn't have enough Calcium stored in it may appear "fragile, thin, and dry" since dead cells accumulate and cell production isn't regulated as well.
Calcium promotes energy metabolism and supports digestion.
Manganese
Manganese is a powerful antioxidant that can protect the cells from oxidative stress and photoaging.
Trace minerals, such as manganese, are important in the healing process of wounds.
Manganese is needed for producing the amino acid proline, which is essential for collagen formation and wound healing in human skin cells.
Due to its role as part of a powerful antioxidant, manganese may reduce inflammation.
Manganese helps activate many enzymes in metabolism and plays a role in a variety of chemical processes in your body.

Q10 Ubiqionon
Helps to protect against free radicals which are mainly responsible for cellular aging.
CoQ10 helps to support the production of collagen, it is a highly effective ingredient that helps to fight the signs of aging skin such as fine lines and wrinkles.
Coenzyme Q10 is involved in energy production in our cells and is therefore indispensable.
Supplementing your body with extra Q10 combats premature aging, as your body needs more Q10 to function normally the older you get.
Copper
Plays a key role in the synthesis (Forming of) and stabilization of skin proteins.
Helps to stimulate collagen production – collagen builds stronger, firmer, healthier skin.
Helps to speed up the healing process of free radical damage, scarring, redness, or breakouts on your skin.
Helps the skin to maintain a constant state of repair.
Copper peptides not only play a significant role in regenerating new hair growth, but they can also make your existing hair look and feel thicker by increasing the follicle size.
Trans-Resveratrol
Resveratrol has an antioxidant effect, to protect healthy cells and tissues.
Due to its antioxidant activity, trans-resveratrol contributes to cell protection from the damage caused by free radicals that are responsible for aging skin.
Resveratrol helps protect the skin's surface, brightens a tired-looking complexion.
It also has significant skin-calming properties that may help minimize the look of redness.
Hyaluronic Acid
Supports the function of collagen.
Hyaluronic Acid help It helps to plumpen skin, support collagen elasticity, and promote healthy hair and nails.s to improve the hydration of the skin.
Hyaluronic Acid helps to improve the hydration of the skin.
The Hyaluronic Acid helps to moisturize and nourish the collagen to enhance your beauty from within.